POC - Photo of the Month Entry
Submitted by Adam Gallash on Fri, 2010-04-02 08:38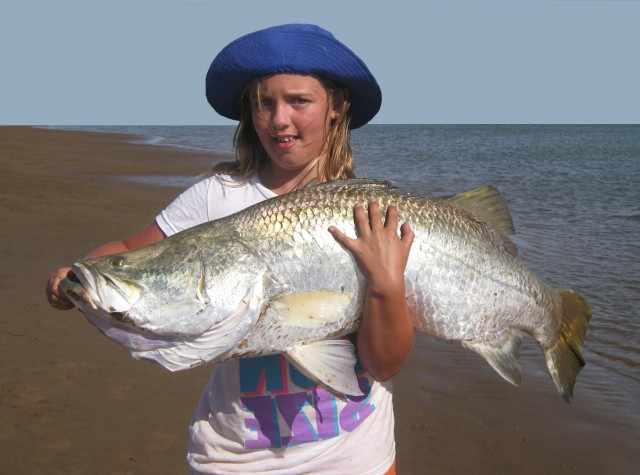 Submitted by Adam for POC - Photo of the Month Entry.
Have not been around for a while but thought i would share this one cheers
Weather looked OK Decided to ask my daughter if she really wanted to go to school.
She thought about it and in about for1.2 seconds decided that Fridays she didn't really learn much!
Knocked off at lunch time and headed out to a local creek about 15 mile down the coast.
Weather wasn't quite as good as we thought and the chop slowed us to a 15 knot trip
which threw our timing out as only two hours before the low. We trolled a bit, to no avail
so casting from the bank on the last of the run was the option. As we walked and cast my
daughter told me about her wishing jar that she keeps in her room. Which is only legend
as i'm to scared to go any where near it as things live in there that still have-not been named.
I told her not tell any one or they might not come true. "She said yeah i still don't have an X-BOX"
We laughed and fished on as the tide slowed Sarah hooked up and the battle commenced.
She struggled as the fish took her up and down the river for a good 10 to 15 min it was great
Jumping head shaking the works till it finally surrendered and came to shore for a photo session.
She went 105cm not sure of the weight but Sarah says it was close to a tonne. We had a few more
strikes and runs then headed home very very happy. When we arrived home, as i unpacked Sarah
disappeared then returned with a small scrap of paper from the jar. (Nearly brought a tear to my eye, NEARLY)
OH Yeah swam off strong after 5min revival session.
Cheers
____________________________________________________________________________
Site Admin - Just ask if you need assistance