PB Wahoo
Submitted by soupster51 on Sun, 2011-02-27 11:35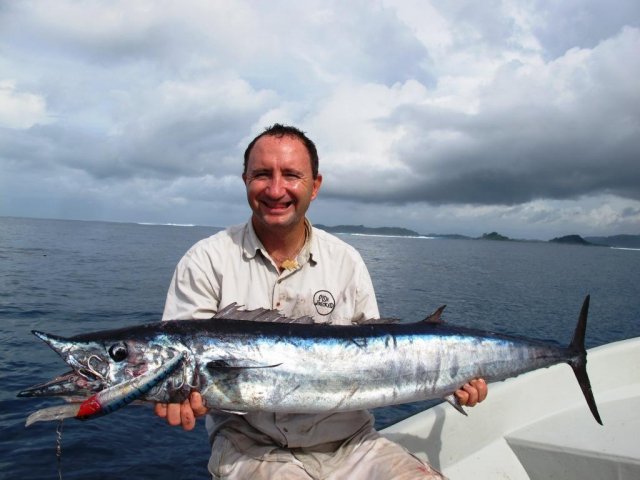 I went out yesterday for a bit of bottom fishing beside one of our barrier reefs. We tied up to a float and down went the lines. It didn't take too long before we had a couple of reef fish on ice. I must have been day-dreaming because when I came to there was a wahoo right beside the boat. I could have reached out and touched it, it was that close. Unfortunately by the time I got a floater out it had moved on. Not long after the wind changed direction and started to gently push us toward the reef. So we decided to put out a couple of deep-divers and target the wahoo that we had just seen. Three minutes into the troll and we were hooked-up. We got it to the boat and unfortunately lost it there. No worries, plenty more where that came from. We put the lures back out and kept going. We got two more touches without a hook-up and then BANG. Double hook-up. Eight kilos of drag was being ripped off my tiagra 50W - Oh Yeah Baby. My buddy brought a solid wahoo boat side and I still hadn't seen mine yet. I finally got him boat side and off it went again, ripping off more drag and just about taking me with him. Awesome fun. I eventually got them both onboard and then sat down shaking from the adrenalin. It aint easy landing a solid fish in a small boat, but good fun. Mine went 24lb 8oz and was a new PB. You Beauty. Sorry about the pic quality, saving some good ones for an article.
____________________________________________________________________________
The best reason for doing what's right today is tomorrow.