yesterdays catch
Submitted by snappermiles on Thu, 2011-09-01 18:22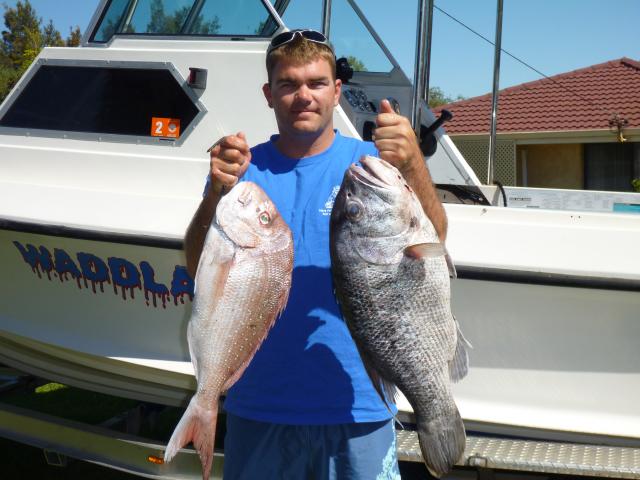 went out early and fished the thirties anchored up and set the big rods then proceded to put the little rod out for a king george! using fiftenn pound braid and a1/0 hook caught a few small wrass and sargent baker for bait and a nice harlequin! then hooked a rather large (what i called for a duhie) after five mins of battling the bugger and only getting it off the bottom for short periods it decided to wrap around the deckies rod on the other side we managed to untangle it and i lifted him of the bottom again only to have him take one more run and straight into the coral! bugger! 1 nil duhie! so i put the light gear away and bought out the 30 pound jigging gear hit the bottom again to look over at the deckie who was hooked up onto a big sea ray!~ lol one of four for his day! at the same time i hooked onto a nice fish pulling up a 6kg snapper! then it went quiet so we moved out deeper!as we neard the spot we seen a line of cray pots??? are they meant to be still out? my spot was fairly quiet so i though id take a look at the pot which was only fifty metres away as we approached the sounder lit up! down went the lines where i pulled a 7.8 kg duhie and my mate lost his! i the caught another 4 kg duhie at this point i though do you keep the small one and go home or throw it back hoping for a larger fish?? i threw it back with great readings on the sounder and what seamed like a good bite he went back! that was the last fish we caught for the day! oh well we got a feed! after that i went hunting for new ground as the fish just turned off!
____________________________________________________________________________
ALL FISHERMEN ARE LIARS EXCEPT YOU AND ME! AND IM NOT SO SURE ABOUT YOU!