Targets - Aquired and Captured Again
Submitted by Mick C on Sun, 2014-11-02 19:08
As per yesterday's post, the demersal ban is all about still getting out on the water but doing different things to broaden the experience. Today was about learning to catch and troll live bait for large things.
With the forecast being for light winds first up then going to sh*t, an early start was required. Got to Mindarie at 5am to be greeted by fairly good conditions. Not much action at the ramp at this time and after we were impressed by a guy that turned up really early he took on the classic rampie persona of a dawdler, and what a dawdler he was. I am still constantly amazed by the personality types at the ramp – when we came in we also had some guy taking up our "retrieve only" lane "processing" his boat (http://server.fishwrecked.com/forum/rampies).
Anyway, off to get some live ones. We headed to the northern beaches and trolled the tried and tested tailor lures. I note that an easterly came in and it got really cold and unpleasant for a while which was an unwanted experience. Trolling for tailor just behind the beach break is however an awesome experience. It is all about finding the schools, and when you do it is bedlam. We hit 2 schools and each one resulted in a triple hookup – and there is nothing better than seeing a surface lure getting completely beaten up by schools of hungry tailor. Within an hour we had our half dozen live ones, after throwing back some "damaged" ones that wouldn't have made the trip. Time to head to the wreck and see how it went.
Downrigging live baits is something that I haven't done before so I was a very interested observer. Even better, the downrigger ball was fitted with a Go Pro so after the trip we could download the footage and see what actually went on. We probably trolled for a couple of hours for only one hit that didn't hook up and normally you would think that the fish were not around. Think again, the footage showed hordes of big sambos that followed the bait around but just didn't take it. They harassed them to death though and it is no wonder the tailor were coming back "stiff". There were plenty of large baitfish schools and perhaps they had just pigged out too much – or the tide, wind, moon, etc, etc was wrong. Anyway, have a look at the images.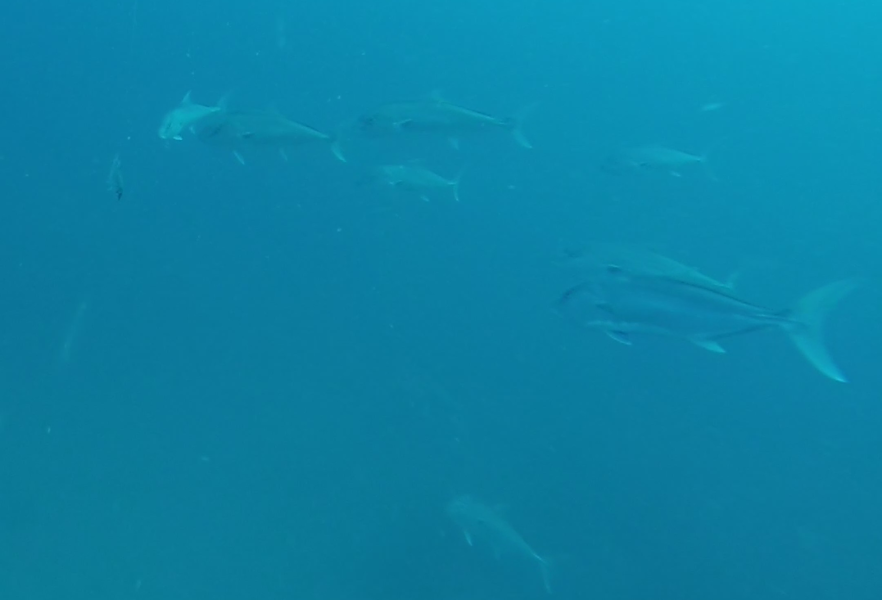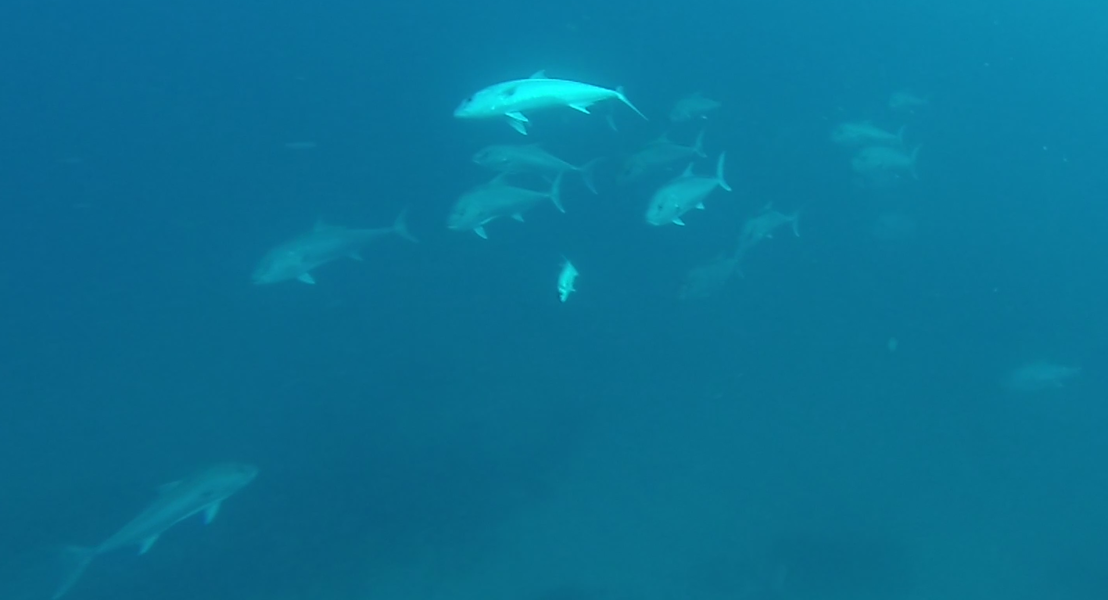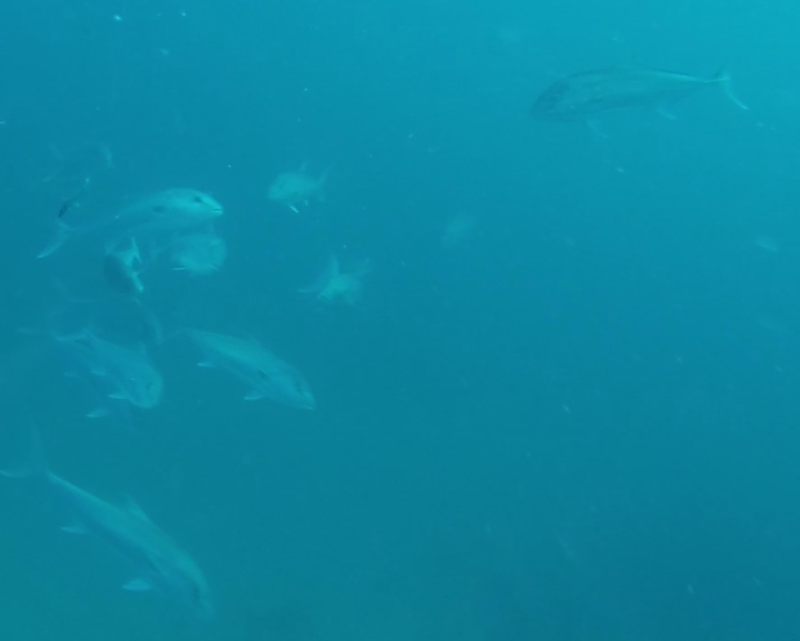 We had seen some others catching a few what looked like small tuna on the troll. After getting nothing with the live baits on a 1-2kn troll we decided to throw out the deep divers and go at a higher speed. This didn't take long to work and we boated a couple of nice 500mm bonito – my favorite pinkie bait of all time so they have been carefully preserved until after 15 December. The young fella, who had been sleeping at the front of the boat, awoke and told us it was his turn. "I want to fish the light gear as it is no fun pulling in bonito on the heavy stuff". OK, so out came the gear and out went the diver. True to form, it was hit soon after but not by a 500mm bonito, nor a big sambo. This thing was huge and after half an hour he was certainly rethinking the "light gear" call. At the end, it took a screaming run that we had to follow or it would have spooled him and then it was off – two of the trebles had straightened. This was one of those "fish that got away" stories and it is a shame we never saw colour to identify it. Much better than sitting watching the rods though.
The wind was getting stronger so it was time to come in. We trolled the way back and got another, but different bonito, in the "desert" off the back of the 3 Mile – who would have guessed? In by lunch and it was another great day where we got what we targeted.
____________________________________________________________________________
Ability is what you are capable of doing. Motivation determines what you do. Attitude determines how well you do it - LH.