Issue 7 Fishwrecked Reeltime Magazine Out NOW!!!
Submitted by Andy Mac on Wed, 2010-10-27 14:50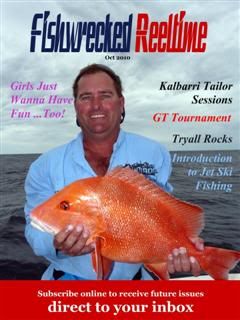 Subscribers should receive their access email shortly. Last Issue we had about 40 emails returned undeliverable, so if you don't get yours it could be that you have changed email addresses since you last subscribed or that your email service provider has blocked the email. Maybe check your settings and if all else fails simply subscribe again and it should take you straight to the new mag (if I have progremmed it properly).
Go easy on us as its been a while since the last Issue and I am a bit rusty on the programming.
It would be great to get some feedback so we know if we are heading in the right direction or not.
One change I may make in the next mag is to have hotspots on some of the pics so when you rollover bits of tackle it uncovers the details of the rod/reel/lure etc. If thats something you would like to see in future issues then lets see a show of hands (posts).
____________________________________________________________________________
Cheers
Andy Mac (Fishwrecked Reeltime Editor & Forum Moderator)
Youngest member of the Fishwrecked Old Farts Club