Hornet Still Happy - 40+kg of Questionable Quality
Submitted by Mick C on Tue, 2014-09-02 20:40
After our return to the water on Saturday (http://www.fishwrecked.com/forum/back-water-25kg-quality), we just had to get out there again. YPM had an Elimination Final at 1pm Sunday but the plan was to go after that and see what the "pinking hour" produced, as we sacrificed this for a tailor troll around near shore reef the day before (yes, they won which puts a further dent on our Sunday missions but this weekend doesn't look that good on the water anyway).
The forecast for Sunday arvo wasn't great but the wind was predicted to drop below moderate around sunset and into the night – yeah right. In what was not the best conditions, we fished our "floaters" on light gear on the spot that had produced nicely all afternoon the day before. The "expert Hornet repairer" came out with us again to ensure the work was up to scratch!
The tally was 5 sambos from 7-12kg, 2 pinks (495mm and 430mm), 2 dhu (530mm and 470mm), a couple of skippy (over 1kg) and a number of assorted non-desirable species, plus bust offs. A very enjoyable few hours on the water, even with the wind and waves. We released everything alive and swimming, except the legal dhu which understandably became fillets for the better half as soon as we got home.
No doubt the highlight was YPM landing a sambo that exceeded the line class. 20 minutes into the fight he was whining about the pain following a hard game of footy, but it was worth it when his PB was landed (>1m). For a 14 year old that works hard on his fishing it is nice to see him get the results. We really did appreciate the qualities of the Hornet that allow landing big angry fish on light gear and it was well worth fixing.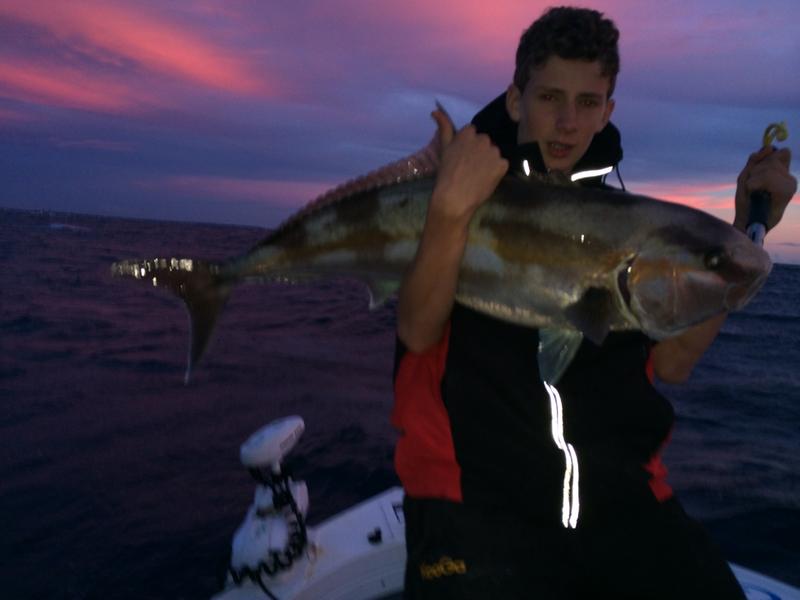 The next task is to dive this spot with a Go Pro (the repairer has a deep dive qualification) to try and understand why it produces what it does.
____________________________________________________________________________
Ability is what you are capable of doing. Motivation determines what you do. Attitude determines how well you do it - LH.