Bald (ie) & Pink (s) +
Submitted by Mick C on Sun, 2014-10-05 13:11
With the change of season, it was time to modify my fishing methods and start to get back out there in the early morning. I think I was probably being soft and only fishing dusk on suitable days and preferring to stay in bed on those cold winter mornings. Based on my limited experience, I think this is going to have to be the norm from now on as the sea breeze starts to happen in the warmer months given my little boat is not a rough weather craft.
With the forecast yesterday being for light winds, it was time to get out and see the sun come up over the land. Hit the ramp about 5.10am and there were already a number of boats in the water and a steady stream of activity (no doubt this was nothing on what it was going to be like a bit later on). The "expert repairer" came along as if you recall, my part of the deal was to show him how to catch pinks in Perth Metro waters. Unfortunately, YPM pulled the pin at the last minute due to sickness (even though there was a reported late night play station marathon by the young one!).
I have picked up a number of marks off Hillarys by in effect stalking a pro cray fisherman – better watch out for that restraining order. Anyway, yesterday we decided to head to a spot where the pro had put down multiple pots over a very small area as I figured this had to be a good sign. We were greeted by excellent conditions and made our way through the hole and the 3 Mile at good speed in first light conditions with the trip to the spot taking less that 15 minutes.
On arrival at the spot, the Minn Kota was set to hover over it and we proceeded to set up. I reached for the burley to go through the few minutes that it takes to get it ready and in the water but when handed my rod it was "oh well, let's throw a floater first". In the short time it took the mulie to get into the "zone" the baitrunner was squealing. Needless to say, the burley was neglected as I proceeded to "expertly lose" a medium sized pink. No matter, as they were really thick as the sun was starting to just break the horizon and the fishing could only be described as bedlam. We landed quite a number of pinks with a couple being truly over size that we kept – a few were close or at the mark but we only tend to keep those that are clearly over.
Along with the pinks, we were visited by schools of quite large sambos – you know they are fairly big when they are chasing your size pinks to the boat. During that session, Dean hooked a horse of a sambo on the bottom bashing light gear and there was the good old sound of the drag screaming as this thing steamed away. In these times, the real qualities of the Hornet become apparent as you can walk anywhere on the boat and there is no anchor line in the water for the sambo to run you around. Just after hookup his floater went off with another large model and whilst I grabbed that and got smashed, my floater went off as well – 3 fish on, 2 people, hmmmm. After 20+ minutes, Dean got his to the boat and what a horse it was – quality capture with what could be called bream gear.
Not long after the photo and release, my floater went off again. This one had all the hallmarks of a solid pink so the drag was lightened from the sambo setting (best to bring them up slow if you need to release and its size suggested it wasn't going to become a sambo meal) and it fought nicely. Was keen to see color and when we did it was quite a surprise. No lip grips to land this model as we netted my first ever baldie. I think it was a super-sized model as it went 720mm and showed a weight of 6.2kg on my manual scales – took it to the MAAC to get it weighed properly though as the fisheries length to weight ratio suggests a maximum size of 650mm to 6.3kg, and it was a fair bit over 650mm – ultimately went 6.38kg, not the Club record but still a nice fish.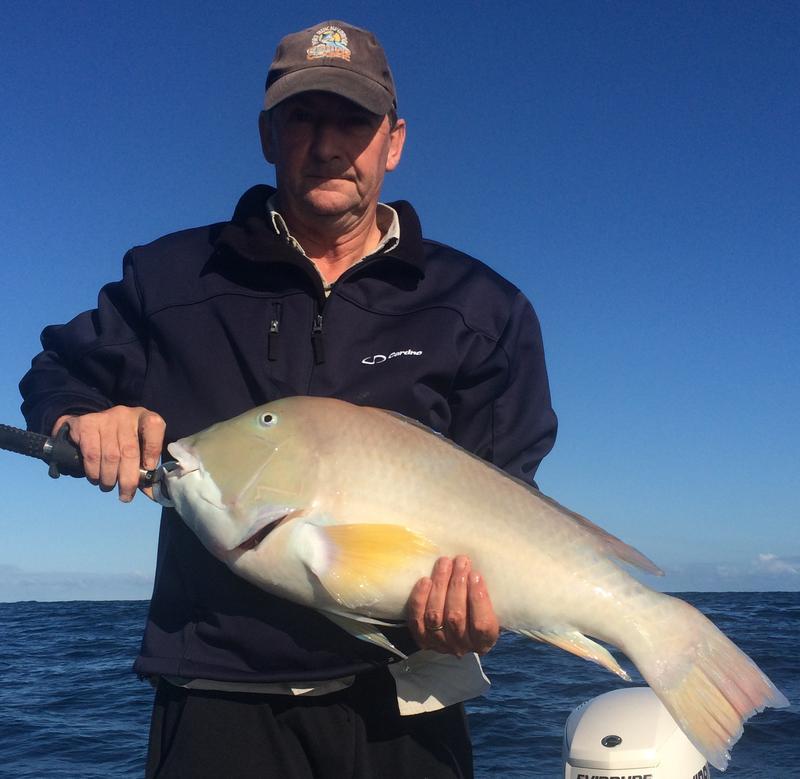 Over the next hour or more, we proceeded to get absolutely smashed by big angry fish. The number of bust offs got to the point that we were fast running out of gear and bait, and stamina, but there was certainly no reason to complain. We boated a few more but none like the horse Dean got earlier. We were sure there were a few sharks in the mix too. More than once we hooked a wrasse or parrot and on the way up it was upgraded. Nice to get a new name for these undesirables – "potential upgrade". We also picked up a nice bonito (my favorite pink bait) and let's just say he was "pleased" to get to the boat and away from the horde of sambos that were chasing him.
As conditions were still good, we decided to head to a spot off Mindarie where Dean knew the CSIRO had installed fish monitoring cameras (Dean makes the brackets for the cameras). It stands to reason if that organization puts down cameras to monitor fish there then there are likely to be a few around. Guess what, there were with a number of undersized pinks landed in the first few drops. We must be sambo magnets as they started to work us over again with a few boated smaller models and more gear being dispatched to the ocean. The bonus fish was a big fat 500mm + king george that took a whole mulie on a floater – definitely a greedy pig. Strangely, the SSW wind came up very strongly to the point where we headed right into shore and had to motor slowly back. On arrival back at Hillarys, the wind switched and it glassed off. Decided to head back out but true to my experience, glass conditions don't go that well for the bite and we only picked up a few undesirables (we kept a reasonable skippy for the cat). Time for lunch and in we came.
I wrote a satirical piece about the personality types I had observed at the boat ramp not long after coming to WA (see: http://fishwrecked.com/forum/rampies). I actually observed another type of Rampie yesterday, but not really sure what to name him. This guy seemed "oblivious" to the fact there was a flotilla to envy the start of the Sydney to Hobart waiting to get in. Even though there are launch/retrieve lanes, he decided that it was far better to launch using this type of lane than the actual launch only lanes that would have been packed earlier but at that time of day you could see the tumbleweeds blowing across them. Not only did he do this, he met the "dawdler" category as it took what seemed like 15 minutes to launch. There was also a component of the "reckless" as he launched in a clearly incompetent manner, he caused the queue of boats to move back as the rope guy performed some weird deepening maneuver, and then proceeded to try and crash into all the waiting boats as he reversed out (the boat owners had to spring into life to go into protection mode an fend off his wayward vessel). Might do an update on the Rampies to include this type and the absolute classic "Monk" written by Geoff78, plus the other good ones.
Another good day provided by near shore Perth Metro. Nice to get my first baldie, and for it to be a big one. Our day showed again that you don't have to go far to get good fish but you do need to fish at the right time on reasonable ground with well-presented baits on appropriate rigs, with the burley making the fish come to you. A tasty bag again to keep the better half happy

.
____________________________________________________________________________
Ability is what you are capable of doing. Motivation determines what you do. Attitude determines how well you do it - LH.