2014 Southern WA Fishing Experience from a 14 Year Old
Submitted by luke_chessells on Mon, 2014-12-08 19:53
This is my first post. I have been a member for a little while now.
When my family and I first moved to Perth one of the things that persuaded me to move here was the fishing. Growing up in Brisbane we mainly did beach fishing and only used to catch the small fish (now we call all those fish "bait"). We mainly caught the bream, whiting, tailor and dart, although I got a big diamond trevally one day and we got quite a few big tailor.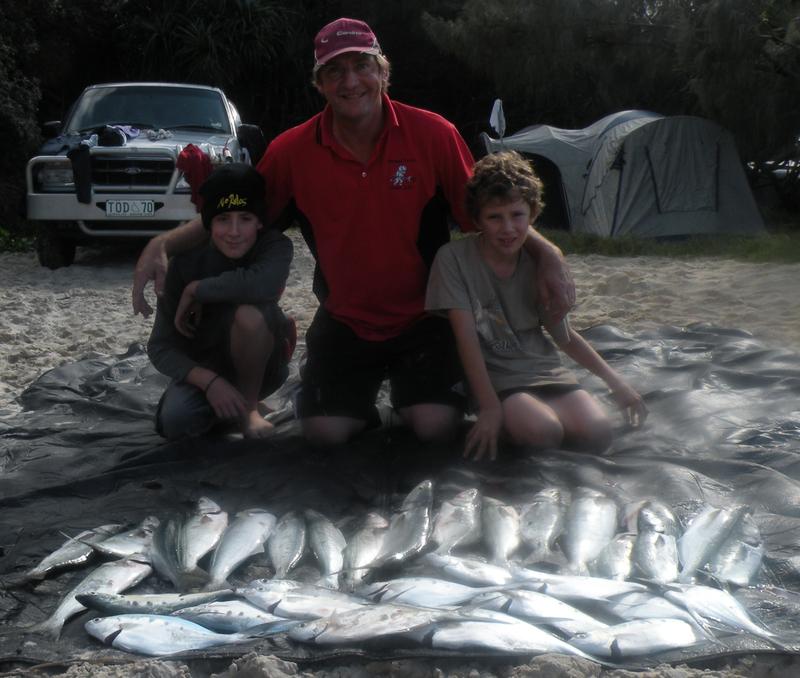 The first memory I have of going out on the boat is when we went to try it out just out of Hillary's, now when I think back and we didn't really consider the wind conditions and it was probably a 20 knot day, it wasn't the most enjoyable ride I've ever had. After that ride, we decided to head out on a much nicer day and we mainly targeted the bread and butter fish like the whiting and herring, we went alright and caught a few fish but I was just happy we were catching fish. My cousin who is around the same age as me came up from Busselton for Christmas and came out fishing with us we decided to head out to Scarborough to look for more whiting so we went down to Scarborough and drifted along the 10 meter mark on the sand hoping to find the schools of whiting. Once we had drifted over a good patch of them we decided to anchor in about 10 metres of water with the Minn Kota (the Minn has helped me as the anchor boy in so many ways over the past year, and it has certainly helped our fishing as well).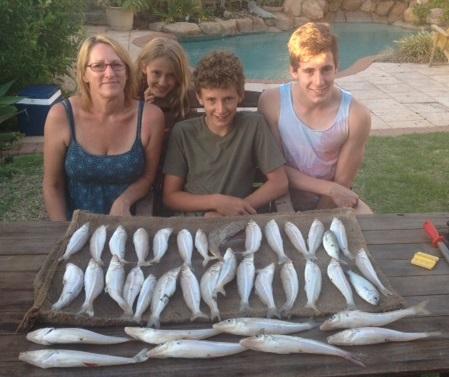 After fishing the whiting for the 2 months I started to get bored of catching the little fish and after watching videos of the Pink Snapper, Sambo's and dhuies being caught I decided I would like to target the sambo's. After a lot of hard work trying to convince my dad we finally decided to try and find the 3 mile and seeing as we were new and we didn't know where it was we thought we found it but it was really about 700 metres past the hole in the wall. The fishing on the reef was still enjoyable and the most valuable thing I have learnt from my dad is to go at the right times (sunrise and sunset). I can still remember my dad reeling in the first sambo and I thought it was huge when it was actually about 65cm. Once we dealt with that I was even more determined to catch one so I decided to put a whole mulie on a paternoster rig that we had learnt from a neighbor. After about 5 minutes on the bottom I felt a weight on it so I decided to reel in and it felt like bottom. I then saw the line peeling off and then I realize that I had a fish on after about a 45 minute fight and we were calling it a sambo we saw a big circular figure in the water and we soon realized in disappointment that it was a ray so I went a bit harder on it and it obviously broke my 10lb line.
After a few more tries at this spot and catching lots of other undesirables the time came when we decided to take a trip down to Busselton to see the cousins and go fishing. Once we got down there we decide to head out into the ocean and we found ourselves in rough conditions again. After no luck and getting a good ocean shower we decided to go and fish the mouth of the marina. Once we got there we cleaned up on small tailor and they seemed big since we had been catching whiting for the past 2 months. The next day was much friendlier and we got up at sunrise and went out to try and find some good ground. We found a good lump about 4 miles out and decided to fish it. Once we got there and caught the wrasse I thought it was a bit boring and decided to have a sleep on the boat. I was soon awoken by the sound of fish being brought onto the boat and it turned out I woke up at the right time because we found a school of King George. The King George were great fun as I still had my 10lb line and they could peel some line off the reel. While we were catching these I decided to put my new overhead combo out there with a whole mulie. I was just bringing in my 3rd or 4th KG when I saw the rod bending over so I quickly ran over to it and wound it up and it turned out to be a nice 540mm Harlequin.
After Busselton we had finally found the 3 mile and we decided to find a good lump and fish off that for a bit. As the days went on we found ourselves catching bigger fish and just in time as my old football coach was coming over for a visit and he was hoping to get onto a big fish. We fished our same spot day and night and caught nothing besides rays and wrasse. My football coach seemed to be a professional at catching wrasse so we decided to give him the nickname "wrasse master". Once the wrasse master had been fishing with us for a few days he decided to go see an old friend and go to the casino. While he was at the casino, dad and I decided to head out to the 3 Mile at night and I was hoping I could get a nice fish just to rub it in, what do you know, a nice 58cm dhuie and my first ever one. After rubbing it in it was finally time for the wrasse master to head home. After he had left we decided to stay on this lump and hope to get into some pinkies.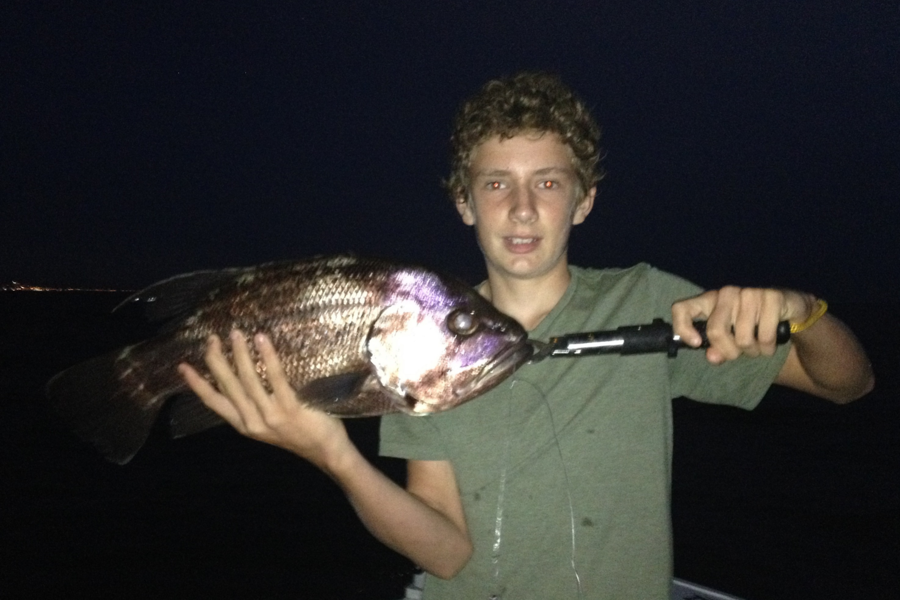 After fishing for a few sessions we had almost given up one night and after losing size pinkies the hopes were low. I finally decided to reel in my dad's floater and the line suddenly started to peel off. After a good fight it turned out I had landed our first sized pinkie. Once that pinkie was landed we had so much more confidence about catching them and we were soon getting our bag limits. One morning I can remember was a very good but very bad day the reason it was good is we landed 4 size pinkies and we had our bag limit the bad part was almost getting run over by a charter boat. Once we identified the charter business that almost killed us we sent them an email hoping to snag a free charter but unfortunately we still haven't got a reply.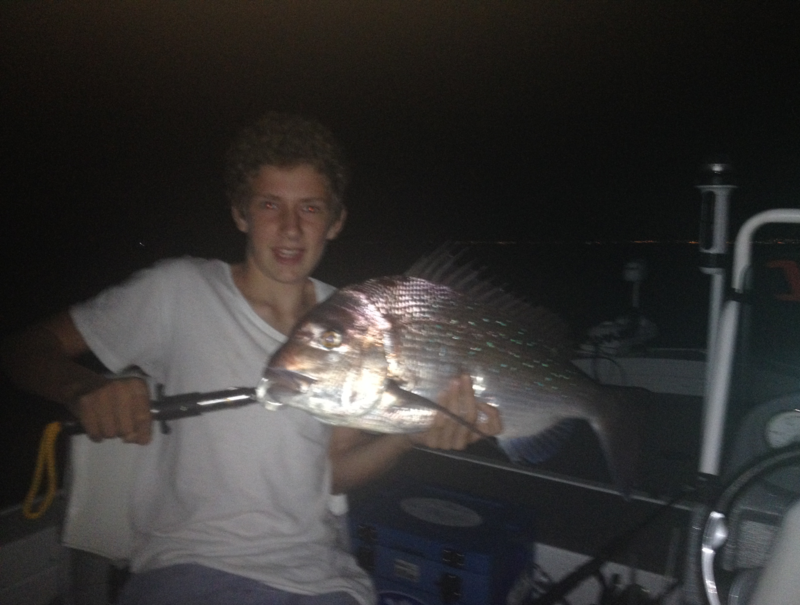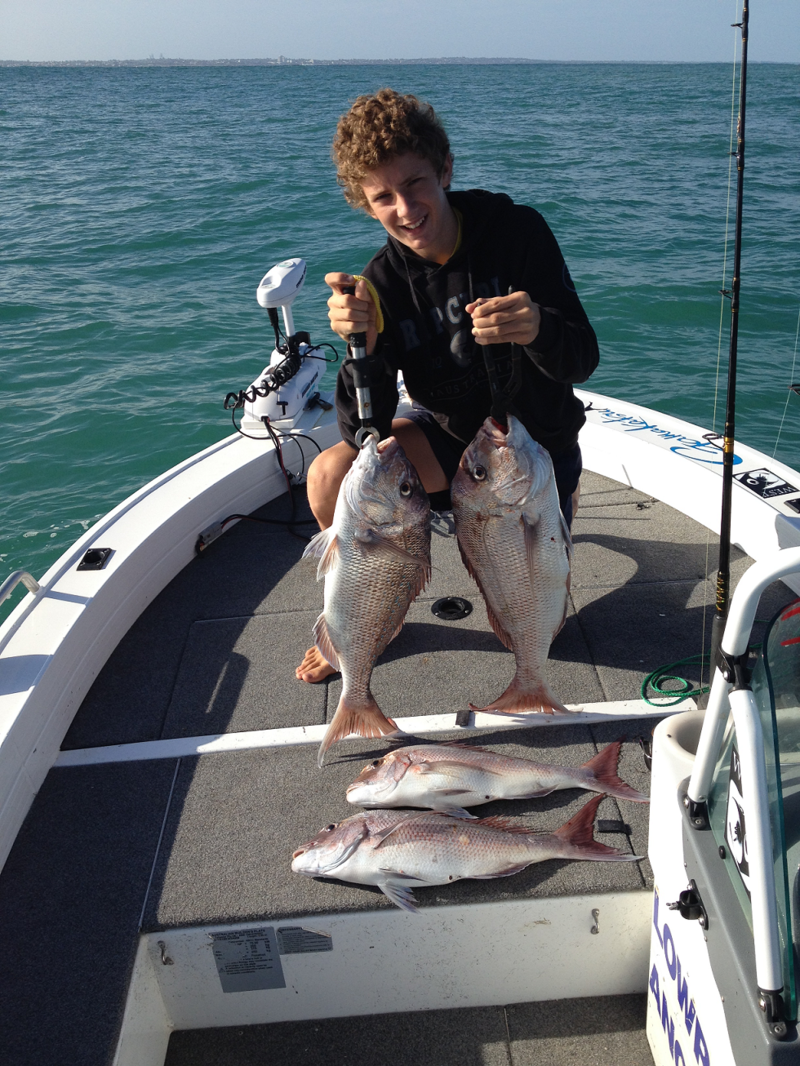 As the countless days went by fishing the 3 mile I again started to get bored and wanted to chase the bigger fish out deep, after getting a few spots from pro cray pots we were hoping to go and check them out but we were noticing more water than usual in the boat so we decided to take a look and it turned out there were some cracks in the bottom of the boat. After talking to another fishwrecked member about the cracks he mentioned a marine fabricator (basically meaning he could fix things that went in the water) that could help us. After talking to him for a while the main thing he wanted to do was catch a snapper. We decided to take him out to a spot that we had not tried before and first drop down we got smashed by King George then soon after that the floater starter to peel and the repairer got his first pinkie.
We soon started to have a good friendship with him and we still go fishing all the time together except times have changed now because I have found many ways to sledge him as much as I can. We decide to take Dean (the repairer) out on one of the MAAC monthly fishing comps. This comp was the last comp before the demersal ban so we decided to head out deep first to see if we could get some of the larger fish. Once we got out there I had prepared a rig just for a dhuie that was down there and had bricked both my dad and Dean before. As soon as my snelled paternoster got down there it was smashed by what fought like a thumping dhuie after about ten minutes of sticking to the bottom it decided to do what it always did and ran into a hole. All hopes were down but I was still determined to get this fish out of its hole so I decided to let the line go slack and see if it would swim out of the hole. After letting the line out I closed the bail arm and gave it a good yank and the fight was back on. I decided to put a bit more hurt on the fish knowing this time I could because I had 30lb line this time I finally got it off the bottom and it turned into a big dead weight. After another minute we could see the big silver flash and too my luck it wasn't a ray this time it was a 10 kg dhuie. It was the best start to a comp I had ever had and the best fish I had caught so far. After a few more hours at this spot I pulled up a wobbygong and that was it, so we decided to move onto another spot close by and burleyed it up and in the next hour we had sambos swimming around the boat. The sambos were going off and Dean had just hooked one that looked quite large so I went to reel in his other rod and BANG! I was on about 5 minutes into the fight Dean lost his fish but my fish kept on holding on. After what seemed like an hour we finally started to see colour and it turned out to be a 27kg sambo. We then headed to other spots during the comp and I picked up a KG and some other fish then it was finally time to weigh in. At the weigh in it turned out that I had won the biggest dhufish, biggest sambo, won the juniors and won the seniors. It also turned out that my dad and I got runners up in the doubles prize. That was probably a comp that I will never forget. After the comp we decided to not go fishing as much since the demersal ban was on but mainly because the weather wouldn't allow it.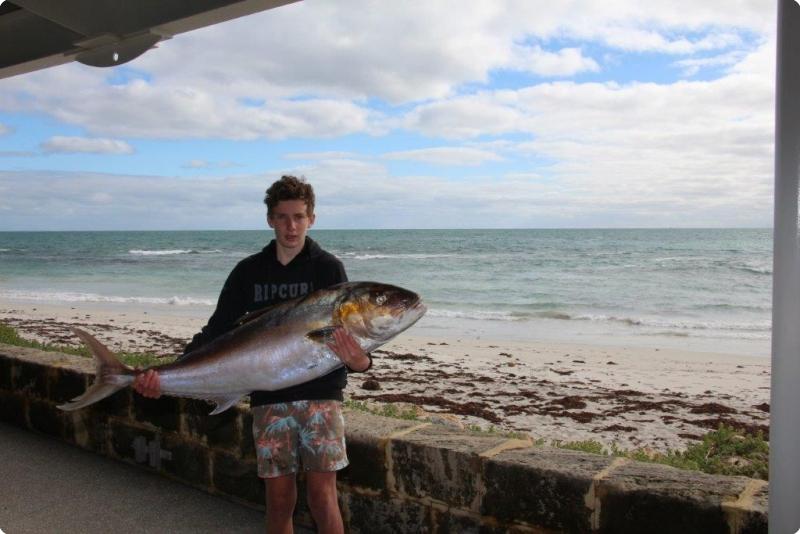 After the days went by it was finally time to go to the AAA state estuary comp in Walpole. After the 5 hour drive we finally got there and decided to take the boat out it was still very windy but since the mountains protected us it was still like glass. We went off in search of ground to fish in the actual comp which was the next day and we found some good holes. The next day we could start fishing at 12:30pm once the briefing was over we decided to go out and fish the spots that we found the day before. I decided to fish right up against the bank and even though it was risky and I did lose some gear I produced a KG and a bream. We decided to fish the night but it turned out the mozzies were out and I will admit that I whined about it but before they came out as the sun was going down I cast my line onto a bank and hooked a nice sized flathead that turned out to be the heaviest flathead of the comp. Once the weigh in was finished me and another junior from the MAAC had won the juniors team, I had won the biggest flathead and I got runner up in the singles for juniors.
That pretty much sums up how the fishing experience has been for me over the past year and I have people telling me on numerous occasions how lucky I am to have the experience I'm getting right now and I believe they are telling the truth. I was inspired by my dad (some of you may know him as Mick C) to write this post and I'm not sure if I have matched his writing skills or not. I hope you enjoy reading this post about my fishing experience in WA and I have loved every little bit about it.